February 28th, 2007 at 11:12 am (Administration, Authors)
NPR's Morning Edition recently ran a fabulous piece on great American writers and their cocktails. This is actually based on a new book, Hemingway & Bailey's Bartending Guide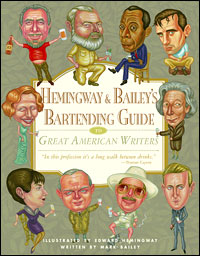 I'm going to have to try Fitzgerald's gin rickey. I'm a fan of the gin fizz, and this looks vaguely similar.
Gin Rickey
It is easy to imagine a warm summer evening out on the shore of Long Island — say a party at Gatsby's house, the bartenders serving up light, refreshing Gin Rickeys as the jazz band swings. In the 1920s and '30s there were any number of Rickeys (scotch, rum, applejack), but gin is the one that endured. And besides, it was Fitzgerald's favorite.

2 oz. gin
3/4 oz. lime juice
Top with club soda
Lime wheel
 
Pour gin and lime juice into a chilled highball glass filled with ice cubes. Top with club soda, and stir gently. Garnish with lime wheel. Serve with two straws.
Hemingway & Bailey's Bartending Guide has made its way to my Amazon wishlist. (What book doesn't?) I love this sort of thing.